The 13 Hottest Celebrity Santa Pictures
If Halloween has taught us anything, it's that you can take just about any occupation, animal, historical or mythical figure and create a sexy costume out of it. Be it a policeman, a pirate or a full-grown cat, when put on the right woman, it can become a beautiful, beautiful thing. There are, however, some costumes you just never see for women, and Santa Claus is one of them.
There is absolutely no reason Santa Claus should ever be considered sexy. Whether you believe in the guy or not, what is not in doubt is that an elderly, overweight man generally is not considered sexy. A man who spends his days with a lot of little people whose only desire in life is to make children happy is considered creepy to most – not sexy.
Dressing up as Santa Claus isn't exactly a foreign idea. While nobody does it at Halloween, it's not hard to see multiple Santas every day during the holiday season. However, it's almost always men who dress up like Santa Claus and there isn't any interpretation of the character. Every Santa costume is the same.
In the last few years though, there seems to be a trend of sexy women not leaving the costumes behind at Halloween. Since Santa Claus makes everybody happy, it's surprising it took this long for beautiful women to decide dressing up as Father Christmas is a good way to get attention. Here are 13 women who got our attention when they donned their version of a Santa Claus outfit.
13. Selena Gomez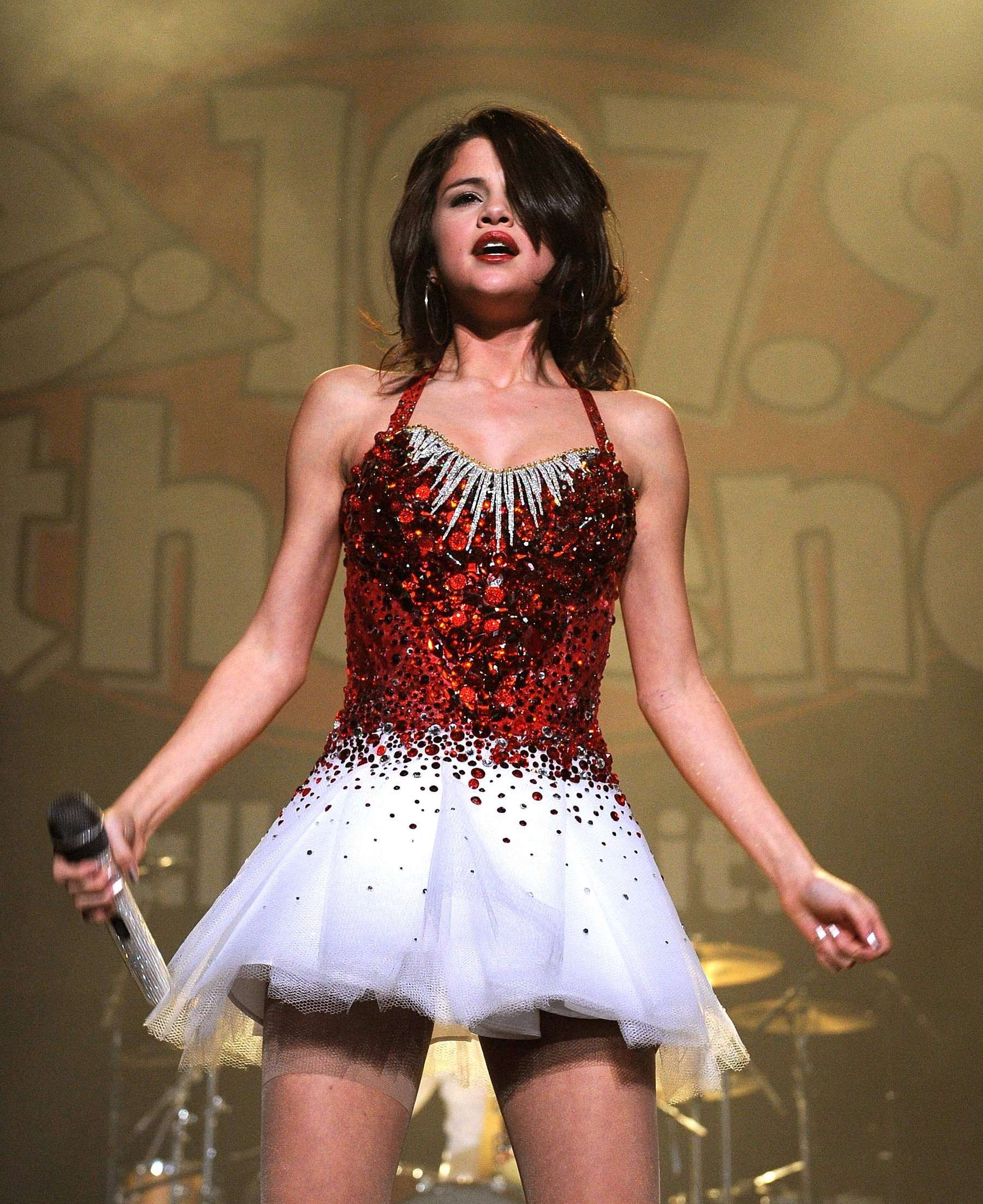 It's hard to remember that far back, but the world was introduced to a pint-sized
Selena Gomez
when she was young enough to still believe a man dressed in red would come down through her chimney and instead of stealing gifts, would leave them. We first saw Gomez when she, along with BFF Demi Lovato were cast on the iconic purple dinosaur television show,
Barney and Friend
s. A few years later, she landed her starring role on Disney Channel's
Wizards of Waverly Place
. When that finished, she made her transition into a very successful singing career. We're hoping she brings more holiday characters into her wardrobe rotation in the future.
12. Jennifer Lawrence
Jennifer Lawrence
is a study in contradictions. On one hand, she claims to never be asked out on dates and stays home on Saturday nights, yet was the centerpiece of the celebrity nude picture scandal in 2014. She says she's awkward, and her trip up the stairs at the Academy Awards a few years ago certainly proves it, but she also may be the best actress of her generation, nailing everything from the action-packed
The Hunger Games
movies to more subtle roles in films like
Silver Linings Playbook
. If it's best to keep them guessing, Lawrence certainly does that, but there's no wondering if she'd make a sexy Santa once we saw her in this picture.
11. Emily Ratajkowski
She'll forever be known as the super hot topless girl from
Robin Thicke
's "Blurred Lines" video, but this model and actress sure knows how to rock a Santa Claus suit. While she was a model for many years prior to the music video, it was the vehicle which propelled her to supermodel status, being named to most "Hottest Women" lists that year and landing a gig on the pages of the Sports Illustrated swimsuit issue. Since then, she's been making the transition to television and movies with her most notable role as
Ben Affleck
's mistress in the film
Gone Girl
.
10. Courtney Bingham Sixx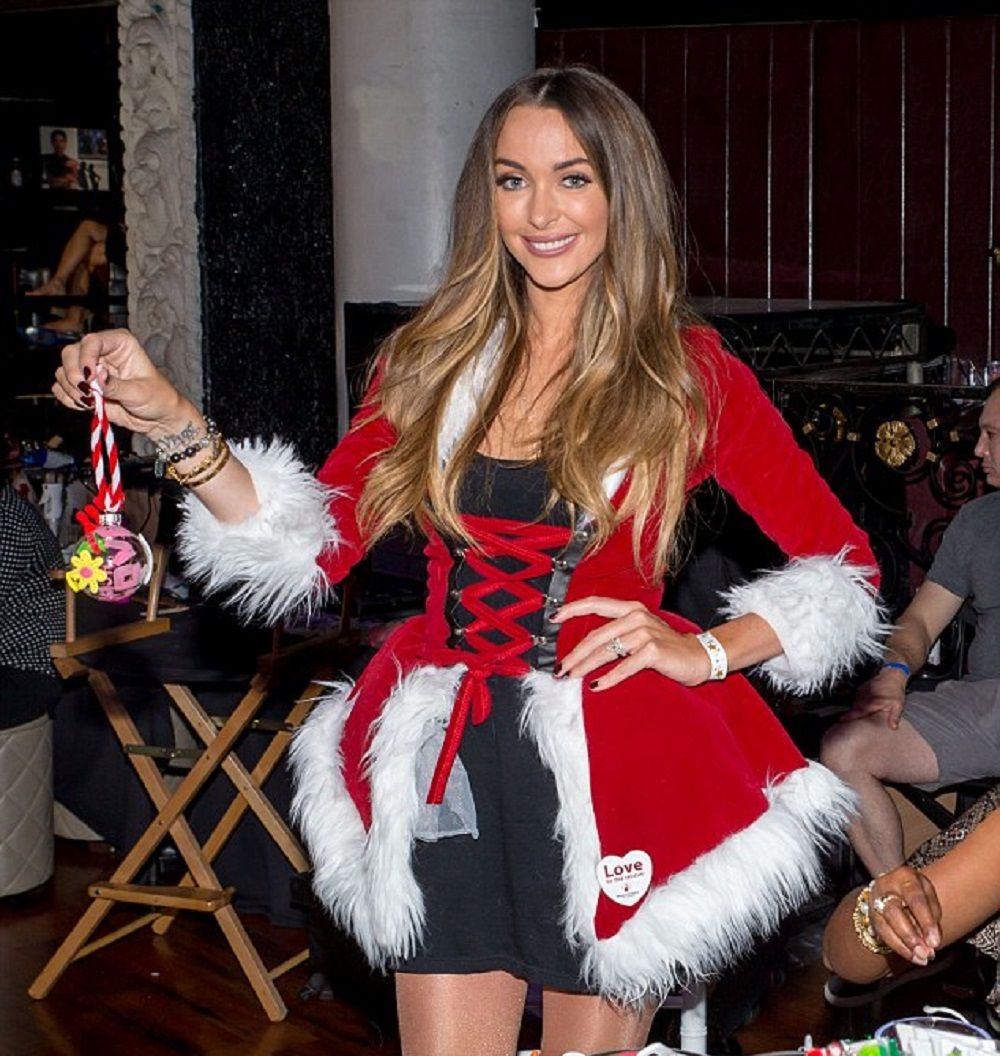 For the regular guy on the street, a rundown of the girlfriends and wives of Motley Crue bassist
Nikki Sixx
is one that evokes a deep feeling of jealousy. Going all the way back to the early 1990s, he was first with Playboy playmate Brandi Brandt. When that didn't end happily ever after, he moved on to another playmate, Donna D'Errico. That, of course, ended and then he segued into a relationship with everyone's favorite sexy tattoo artist
Kat Von D
. These days, he's playing house with new wife Courtney Bingham Sixx. The duo recently had a child, who will probably believe in Santa, although maybe not the version mom has portrayed.
9. Mariah Carey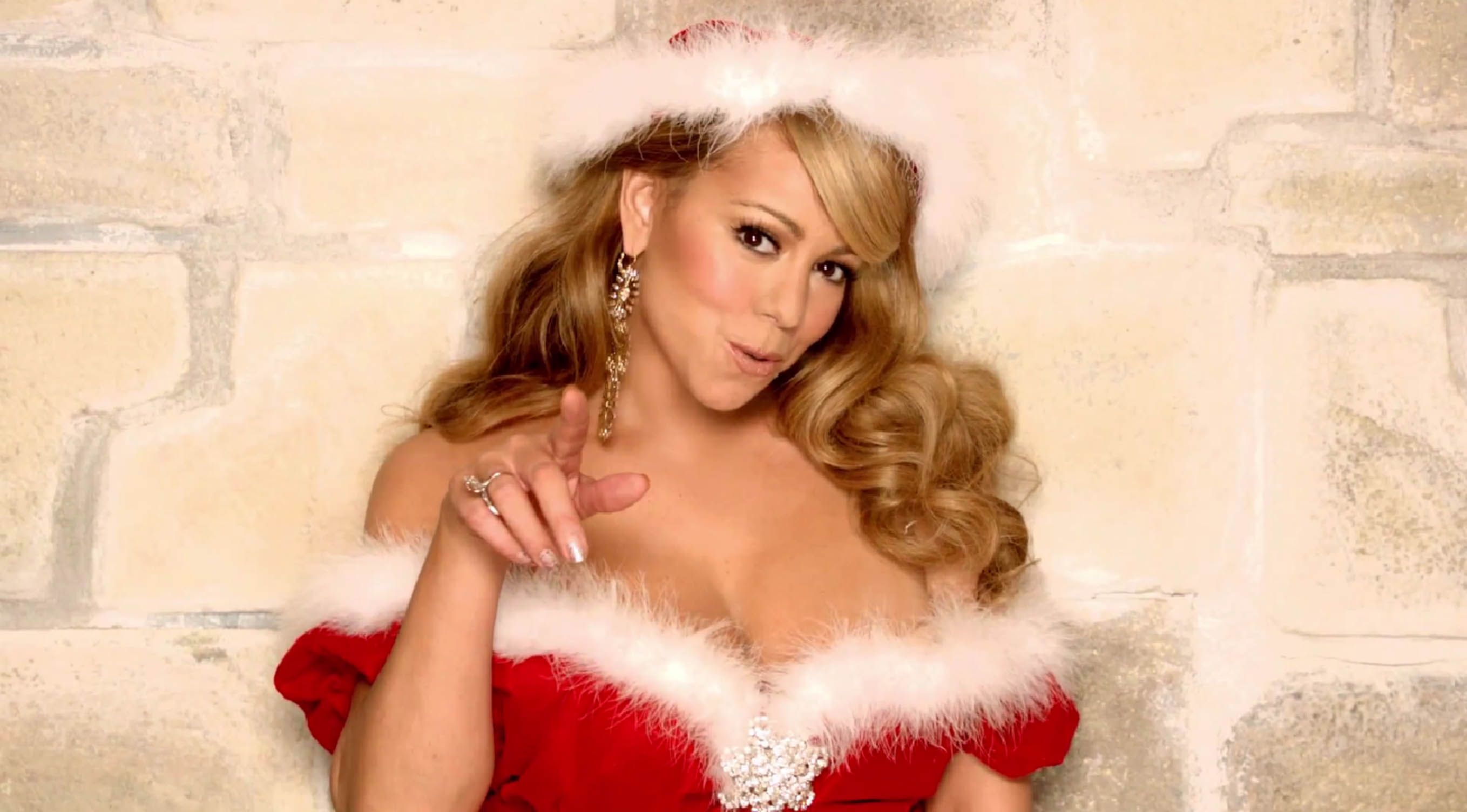 With all of the female musicians on this list, it's clear that if you're a singer and you're of the fairer sex, you'd better get a sexy Santa Claus outfit in your closet for that special time of year.
Mariah Carey
got a lot of mileage out of her Santa outfit, parlaying her love of the holiday into two albums. The first was 1994's
Merry Christmas
, which spawned the hit "All I Want for Christmas Is You" and has sold over 15 million copies worldwide. Her second Christmas album,
Merry Christmas II You,
didn't spawn any hits and has sold only about 10 percent of the copies as her first one.
8. Paris Hilton
Remember
Paris Hilton
? She created the template that
Kim Kardashian
has taken to the bank: have a sister just slightly less hot, but still good looking (if you can have three or four, even better), have a tape "leak" and claim you never intended anybody to ever see it and then sit back while you become famous for doing next to nothing. Kardashian not only learned from the best, she basically job-shadowed, serving as one of Hilton's assistants. It's not that we miss the pretentious blonde (or her sister), but it's more just that we miss the pretentious blonde looking like Santa Claus.
7. Alessandra Ambrosio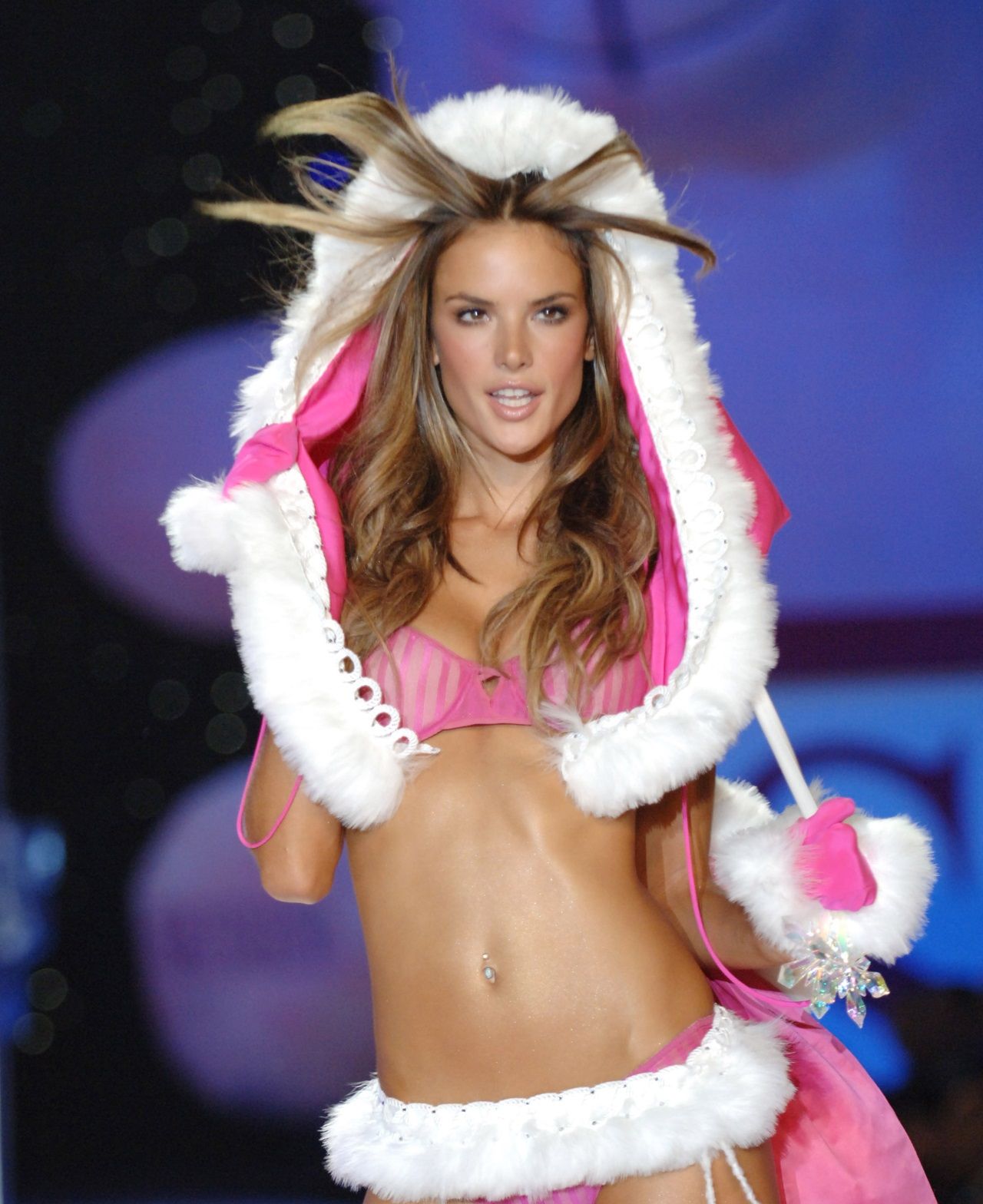 In a perfect world, every human looks like
Alessandra Ambrosio
. Unfortunately, in this world, only one person does, and man, can she rock a sexy Santa suit or what? We'll let it pass that she's not wearing traditional red, but it only makes sense since she was the first-ever spokesmodel for Victoria's Secret "PINK" line of clothing. She of course, also appeared as an angel on several of the television specials and has modeled for some of the biggest brands in the world such as Armani and Ralph Lauren. Ambrosio, who has been on the highest-paid models list for nearly a decade, also does a lot of charity work, especially for the Multiple Sclerosis Society.
6. Miley Cyrus
There are probably a million "naughty or nice" jokes to be told here, but it just seems too easy. Since saying goodbye to her dual roles on Disney Channel's
Hannah Montana
,
Cyrus
(who was born with the optimistic name Destiny Hope Cyrus) has done a great job making people either love her or hate her. Whether riding a giant wrecking ball naked, grinding up against Robin Thicke at the MTV Video awards or catching flack for photos showing her smoking, she certainly knows how to keep society's eyes firmly on her. It's hard to take your eyes off of this Santa Claus impersonator.
5. Barbara Palvin
Palvin is one of those models who has been making a splash in recent years and since she's only 22 years old, we can expect to see her on runways, magazine covers and catalogs for years to come. Palvin is a bigger face in Europe and Asia, where she saw her first success, but if her take on the Santa Claus outfit is any indication of things to come, we can't way for more. She has modeled for some of the biggest names in the world, including Victoria's Secret, L'Oreal and Armani. Palvin has said that
Natalia Vodianova
and
Kate Moss
are her favorite models and inspirations in her career. So is Santa Claus, apparently.
4. Eva Habermann
If you're unfamiliar with German Eva Habermann, you'd think she was a 20-something model based on her amazingly sexy portrayal as Santa Claus, but she's actually a well-respected actress who will be turning 40 just a few weeks after Christmas. Unless you're really into the German entertainment scene, you've probably never seen in her movies such as
Feuer, Eis & Dosenbier
nor
Rosamunde Pilcher
and certainly didn't catch on the television shows
Immenhof
or
Die Strandclique
, but you don't need to know German to know which version of Santa you'd like to see coming down your chimney this Christmas.
3. Katy Perry
When she first gained notoriety as the pop star who sang "I Kissed a Girl", many wrote-off
Katy Perry
as a one-hit wonder, but she's certainly proved otherwise with a series of hits including "Firework," "California Gurls" and "Teenage Dream." Perry has found that sweet spot between sexy ingenuine and wholesome girl next door, which is a perfect place for someone who wants to don a just-naughty-enough Santa Claus outfit. Little girls can still look up to her and their fathers can still look directly at her. With hits yet to come, we should be seeing Perry in Santa outfits in Christmases to come.
2. Poonam Pandey
When you think about countries with sexually liberal people, India likely doesn't make the Top 20, but Poonam Pandey is doing all she can about it, starting with Tweeting lots of photos of her as a super sexy Santa Claus. She rose to prominence in her home country after appearing on one of its only fashion magazines, Gladrags, but really drew attention when she promised to strip for the Indian Cricket team in 2011 if they were victorious in World Cup competition. They won, but she was denied (as were those poor souls on the team) when the cricket administration denied her the pleasure. Thankfully, they have no such authority over Father Christmas.
1. Maria Fowler
One of the strangest, yet most amazing traditions in British journalism is the inclusion of a (nearly) naked girl on Page 3 of many of their daily and weekly tabloid newspapers. These "Page 3 Girls" gain a level of infamy, enjoy their 15 minutes of fame, and fade into obscurity. Maria Fowler, who unlike many of her contemporaries has studied Fine and Performing Arts, has tried to buck that trend with other modeling gigs and even some acting. We wish her all the best, but if she wants to be taken seriously, she really needs a little more fabric to her Santa Claus outfit. If she doesn't care about that, we encourage her to wear it every Christmas.